About Dr.Nageshwari Sharma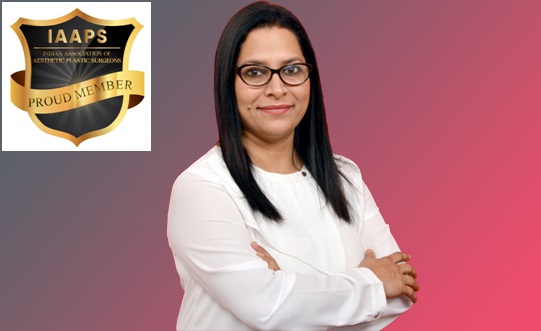 Dr. Nageshwari Sharma is Qualified Board Certified Plastic, Cosmetic & Reconstructive Surgeon with Special interest & expertise in Cosmetic Surgery, Maxillofacial Surgery & Burns. She also is an artist who has won many Awards in Fine Arts. She had an Excellent Academic Career Securing first position in M.B.B.S. & 1st position M.S. General Surgery.
She has completed her M.B.B.S. from Pandit Jawahar Lal Nehru Memorial Medical College, Raipur in 2000 with Distinction in Physiology, Preventive Social Medicine, ENT, Forensic, Medicine & Surgery. She also ranked first in M.B.B.S. amongst all Students of Awarded a Gold Medal. She continued her Post-Graduate Training in General Surgery at the same Hospital & completed her M.S. (General Surgery) in 2003 securing First Rank amongst all candidates of Pandit Ravishankar University, Raipur and also Awarded Gold Medal for securing 1 st position in M.S. in 2004, she joined the super specialty for course for M.ch (Plastic Surgery) at Topiwala National Medical College and Nair Hospital, Mumbai completing the same in 2007. She Joined as Assistant Professor in Plastic & Reconstructive Surgery in King Edward Memorial Hospital and G.S. Seth Medical College Mumbai in 2008 and continued to work there till 2010.

To keep herself updated with the latest in Plastic Surgery, Dr. Nageshwari Attends Conferences and workshops. Hands on training in Maxillofacial Surgery by AO, Hands on training in Ear Reconstruction with Dr. Francoise Firmin and Dr. Alexander Marchac (Renowned Surgeons from Paris in Ear Reconstruction), International Aesthetic Course under Dr. Thomas Biggs etc.

During this tenure she Mastered in Maxillofacial Surgery, Reconstructive & Aesthetic Surgery. She resigned her Assistant Professor post in 2010 and started private practice in Thane. She has done a number of Cosmetic, Maxillofacial Surgeries and has been pioneer in treatment of Pediatric Burns in Bethany Hospital where she practices with over Nine Years of Experience. Dr. Nageshwari Sharma now performs the entire spectrum of Cosmetic Surgery procedure especially Tummy Tuck, Breast Reduction, Liposuction, Breast Augmentation, Gynaecomastia Surgery, Maxillofacial Surgeries & Burn Surgeries along with Reconstructive Plastic Surgery. She has attended many National and International Conferences and worked with various Renowned Surgeons.


As a Board Certified Plastic Surgeon Dr. Nageshwari's Philosophy is good Patient - Doctor Communication to understand Patient's Cosmetic & Reconstructive Goals, Patient's safety being the highest priority to achieve the best possible result. "Plastic Surgery should not speak volumes but Whisper". She choose Plastic Surgery because it's a perfect blend of the Artist Surgeon in her and helps her to give her Patients their self confidence and body image back, which becomes her greatest reward.
Affiliations
Member of Association of Plastic Surgeons of India
Member of Indian Association of Aesthetic Plastic Surgery
Member of Indian Society of Surgery of the hand
Member of Burns Association of India